Celebrating Baby's First Christmas
It's your baby's first Christmas! And you want to make it as memorable as possible. Put some fun and creativity into your preparations for everlasting memories and keep in mind these tips to ensure that this joyous event in your lives takes place smoothly, without anything marring your joy.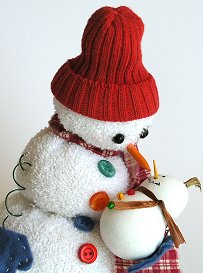 Your Childhood
Start with a travel back into your past. What were your favorite Christmases as a child like? What would you like to recreate for your baby? It might be a long-forgotten tradition or event. Now is the time to bring it back so that your baby can enjoy the same moments and look forward to Christmas every year.
New Traditions
Start a new tradition. Include a nice family activity or a new recipe or a prayer ritual this year. Children love traditions. They look forward to doing the same things year after year. Unlike us, they do not wish for 'some change' in the way they celebrate any holiday.
Give your baby something to look forward to – something that you will enjoy too
Decorating
Decorate all over with the baby in mind. Your first care should be to make the decorations baby-proof. Avoid sharp-edged or tiny decorations. If you must use something like this, make sure you place them far out of the reach of baby.
A wonderful way to decorate your tree would be to hang your old ornaments – the little clay ones, photo ornaments, popsicle stick decorations that you and your husband made as a child. Jingle bells or any other ornament that makes a sweet sound will be welcomed by the baby!
Buy or make yourself, a new ornament just for the baby. Ask the baby to hang it on the tree, and if he/she is too small to do it, hold her in your arms while you or your husband hangs it. Make sure your little family – baby and her parents – are together to cherish this moment when baby's first ornament adorns the tree. This would be a moment worthy of a photo.
Another such moment would be hanging baby's tiny stocking on the mantle. Once again, you can either buy or make a small stocking personalized with the baby's name.
Decorate your mantels with soft cuddly snowmen, Santas, Angels etc. To continue the baby theme in other places, use cuddly pillows and cushions in Christmas shapes, soft materials etc.
Commemorative Gifts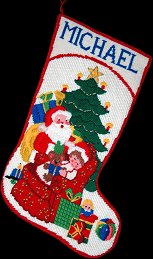 Your gifts to the baby should be commemorative of this event. A new ornament, a personalized stocking, a Santa suit of her size, small Santa and Snowmen dolls, a silver spoon etc. Preserve these gifts with care and they will give you memories for a lifetime. If you have a baby girl, give her a new ornament and then continue doing so every year. Preserve all her ornaments carefully and give them to her when she marries.
A large variety of gifts are available in stores made specially for commemorating Baby's First Christmas. Some of the more popular choices are personalized Christmas ornaments, Christmas clothes set including bibs, pacifiers, bottle covers, stockings, Christmas-themed Baby Blanket. Most gifts have the words 'Baby's First Christmas' printed or embroidered. Take your time and shop for one or more of such gifts for your baby.
You can also, of course, buy other toys, presents, clothes etc. for your baby, but don't be disappointed if your baby is more interested in playing with the colorful wrapping paper than the gifts. The baby is too small to appreciate the gifts and later in his life, he will cherish those more than anything else. But right now, there is nothing more attractive to him than the bright colored wrapping paper that was discarded after his gifts were opened.
Scrapbooking
Start a 'Baby's First Christmas' scrapbook to journalize all these special memories. Apart from photos and written details, include scraps of discarded wrapping paper, bows, gift tags, greeting cards, payment receipts of gifts bought for him, letters received etc. Going through them years later will bring back the fondest of memories. Make a note of this celebration in your Baby's Baby Book.
Capture the Memories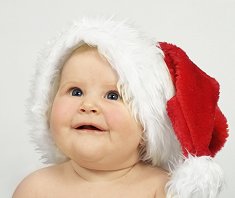 Do not forget to take lots of pictures. Try to take pictures of the baby without her knowledge while he/she is busy taking in everything going family while they are sitting together around. Capture her amazement at the glowing tree lights, bright ornaments, colorful flower decorations etc. Video-shoot your around the baby. Don't forget the traditional family photo. Gather everyone together and set the time on your camera for a complete family portrait. Take one such photo every year and see your baby grow every Christmas.
Family Fun
This is a joyous occasion for the whole family. Get your family together and plan cozy meals by the fireplace.
Your baby will be seeing a lot of faces – some new to him/her. While the baby will enjoy the warmth of the closeness of a family gathering, he/she might also be intimated by the so many new faces around her. The busy Holiday season might also disrupt her daily routine and upset her. If you feel this happening, take the baby away from the noise and bustle for some time and comfort and cuddle her.
This article first appeared in the 'Celebrating Christmas PDF Magazine' which is a FREE magazine that you can download and even print out.