Making Christmas Special for Your Toddler
Christmas can be a trying time for a toddler. There are presents that can't be opened, ornaments that can't be touched and multiple shopping trips, but the holiday season can be a time of wonder and joy for your toddler too if you make a few adjustments to involve them in the festivities.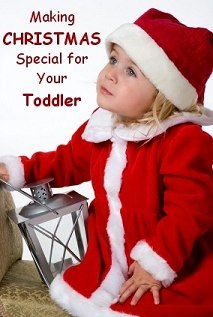 Maintain their Schedules
One thing that often happens during the holidays is parents add extra rules and restraints to their children because there are more things going on. Adding more rules all at once can make a toddler cranky and hard to deal with. Try to maintain your child's normal schedule and avoid bribing them with extra gifts.
Decorating
When decorating consider your child; if you have lots of delicate ornaments, you may want to keep them in their boxes this year and instead decorate the tree with edible ornaments, stuffed toys, or other items that can't be broken by little hands that want to touch them.
Decorate with large stuffed Christmas toys like Santa, snowmen and elves that your toddler would love to make friends with. Use some of your toddler's favorite toys in the décor so that the child feels more relaxed and comfortable among the decorations.
Let your toddler be involved in the decorating too. Play some of their favorite music and let them hang some of the ornaments. They will enjoy helping.
Gifts
Your child may be old enough that they want to get gifts for others. Most parents want to encourage this spirit of giving, but a trip to the store is often stressful for a toddler. Get a few small gifts that you know other members of the family would enjoy and then allow your toddler to pick out some items and wrap them.
If friends and family come to visit before Christmas and bring gifts, you may want to consider letting the child open them while the visitors are there. This way the toddler will get to enjoy the spirit of Christmas much longer than just Christmas morning and the guests will get to see them open the gift and enjoy it.
Party Foods

Think about your toddler when preparing party foods too. You can include some festive finger foods just for them that others would enjoy as well; such as carrot sticks, mini sausages and apple slices. Make smaller portions of main course meals and desserts that your little ones can enjoy as well.
Movie Theatre
Christmas Eve can be especially hard for youngsters. Make it a special time by having an at home movie theatre. Let them pick their favorite Christmas movie, darken the room and have everyone enjoy the movie. You could find a Christmas movie featuring their favorite cartoon character or play some of the popular animated ones.
An added bonus is that it will help them calm down and make it a little easier to go to bed.
A Party for Them
Christmas is the time for parties and fun. Don't let your toddler miss out on the fun. Invite your child's playschool or preschool friends for a small party. The party does not need to be elaborate. Just keep it simple with lots of fun for the kids.
Make the Day Special
Get your child a special dress to wear for Christmas. It could be a Santa or an Elf costume or any other Christmassy dress.
You may also want to keep one small gift hidden during Christmas morning. Then let your child open it at the end of the day. It gives them something else to look forward to and if you choose a present such as a book or movie it is something they can enjoy just before bed time.
Christmas for Toddlers
Your toddler is now able to understand a lot of things. Explain to them that Christmas is a very special birthday. Use nativity sets to explain them the story of Christmas in as simple words as possible.
Make or buy stockings for them and make them hang it. Stuff them with gifts they will love and tell them about Santa. Teach them about being good all their life to be able to be in Santa's good books.
This article first appeared in the 'Celebrating Christmas PDF Magazine' which is a FREE magazine that you can download and even print out.