Christmas Theme – A Colonial Williamsburg Christmas
We all have our favorite Christmas traditions, whether they were formed in early childhood or are ones we've made up for our own relatives and friends. This year, with many Americans overseas for the season, many hearts are turning toward the nation's founding principles and how we can use them in our modern lives. What better time to celebrate a Colonial Christmas?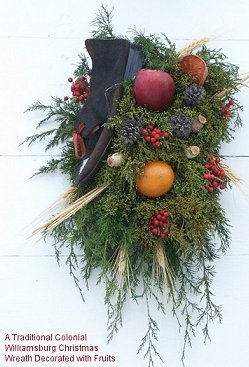 Some of the earliest Christmas celebrations in America took place in Williamsburg, Virginia. This is the heart of what most of us think of when the word "Colonial" comes to mind. Simple elegance, generous hospitality, and the use of natural elements are the hallmarks of this style.
Decorations
To bring this atmosphere in your own home, begin with your decorations. Many people equate Williamsburg decorations with lots of fruits — wreaths and evergreen garlands accented with apples, oranges, pineapples and persimmons, even limes and artichokes.
Our original forefathers would not have dreamed of such a thing — their religious sensibilities would have recoiled at such waste! In those days, Christmas decorations were more spartan, making use of natural materials at hand, such as magnolia leaves, holly berries, milkweed pods, sumac berries, cotton bolls, rosemary, laurel, boxwood and pine.
Common was the practice of "sticking the church" with green boughs on Christmas Eve.
Garlands of indigenous evergreens were hung from the church roof, the walls, the pillars and the galleries. Sometimes even the pews and the pulpit were included. Private homes were much more modestly adorned. However, the use of these items is so closely associated with the region now, that of course you can use them without fear of the Decorating Police citing you.
Just be aware that even the freshest fruits will probably have to be replaced every week or two to look their best — and birds and squirrels may plunder tasty outdoor decorations. Rather than using edibles, you can add berries, dried flowers, magnolia leaves, oyster shells or even dried okra pods to give your wreaths and garlands shape, texture and color.
Food
Williamsburg revelers were greeted by lavish feasts, and many people were welcomed to each one. Turkey, roast beef, cured ham and venison were popular meats, often accompanied by oysters, shellfish and lobster. A frothy, eggnog-like drink called Syllabub, and the requisite hard cider, lent warmth and cheer to the guests. For dessert, mincemeat pies joined new Southern delicacies, such as pecan tart and oyster dressing.
The Pineapple
The pineapple was known as the symbol of hospitality, so it featured prominently in Williamsburg architecture, decor and cuisine. can incorporate this theme throughout your celebration; carefully hollowed-out pineapples make beautiful candleholders, or you can place a whole one atop a symmetrical circle of glossy magnolia leaves for a classic centerpiece.
Gift Giving
Keeping gifts in the Colonial theme may seem daunting, but it is worth the small effort to see the surprised delight on your loved ones' faces. Men will appreciate a luxurious shaving brush set or a pewter beer mug; women will enjoy linen hand towels or a lovely tea set. Wood, pewter, brass, leather, pottery and iron were some of the most-used materials in this era, so consider a pair of candlesticks, a beautiful bowl or even a finely-crafted door knocker engraved with a family's monogram.
Activities
You can complete your theme by incorporating readings from some of the nation's founders, singing madrigals together, or having your family and guests reflect on which "old-fashioned" ideas still apply today. You may be surprised how modern and refreshing a Colonial Christmas can be!
This article first appeared in the 'Celebrating Christmas PDF Magazine' which is a FREE magazine that you can download and even print out.