Christmas Theme – Secret Garden Christmas
Whether you want to celebrate your love of gardening, or are looking for ways to honor a friend's passion, a Secret Garden Christmas is a beautiful and unexpected treat in the midst of winter.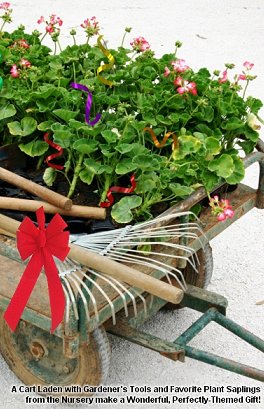 Everyone knows at least one person who is an avid gardener. If you are such a person, no amount of explaining can quite communicate the delicious feeling of dirt-covered hands and a damp hat-band. If you are not, trust those of us who are — it's the best hobby in the world!
For what other pastime centers around the creation and sustenance of life — and what else could be a more perfect representation of Christmas?
The Christmas Tree
The center of any celebration, of course, must be the Christmas Tree. You want to lavish your "guest of honor" in the finest garb it ever dreamed of.
Use raffia or fresh ivy as a garland, loosely circling the tree. Tuck dried flowers, such as hydrangeas, goldenrod, roses or herbs, into the branches. Fresh juniper or misteltoe berries are welcome here, and you can add bunches of nandina or holly as well.
Place a tree skirt around the bottom, and cover it with straw as if it's mulched — or, with a couple weeks' preparation, you can have new grass beneath the tree! Simply sow grass seed in flower pots about two weeks before you'll need them; keep them watered and you'll be rewarded with an unexpected flash of spring green in the middle of winter.
A local hardware or home-improvement store can sell you tiny white picket fencing just a few inches tall; place the pots of grass around the tree, and the fence around that, add a few pots of forced bulbs (anything from paperwhites to hyacinth will do, or white amaryllis) and it's springtime for Christmas.
You can decorate the tree or fill stockings with the small but welcome essentials of gardening; push ornament hooks through packets of seed; a pocket-sized gardener's journal with a spiral binding can hang from the tree; even a pair of small, fine pruners or goatskin gloves can dangle from a sturdy limb.
Decorations
Use nature's bounty to decorate every nook and corner of your house. But add some creativity to the usual garlands and swags by adding surprise elements like fresh or dried flowers, fruits, foliage etc.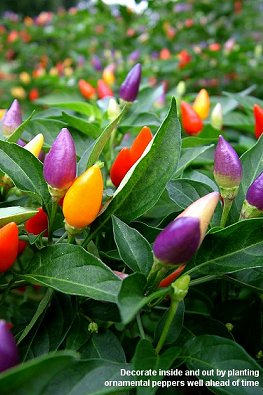 Ornamental peppers are making inroads as holiday plants because of their brilliant colors. Decorate inside and out by planting these peppers well ahead of time.
Gifts
Gifts are the most exciting part of a 'Secret Garden Christmas'. You an choose from gardening supplies, tools, natural products and decorations, birdhouses – almost anything that has got something to do with nature to keep your gifts in sync with your Christmas theme.
For all gardener's on your list (you are sure to have many if you plan to celebrate on this theme, I am sure!), a cart laden with Gardener's tools and favorite plant saplings from the local nursery will make an absolutely delightful gift. Give your gift a festive look by adding a big red bow on one of the cart edges or any of the tool handles. Sprinkle some confetti or streamers in holiday colors amongst the plants to complete the look.
For another great gift idea, round out the stocking with pumice-laced gardener's soap, good-quality sunscreen, brick clips for attaching trellises to walls, packets of cut-flower food, and other items.
Or, you can do a "gift basket", using instead a tall bucket perfect for carrying cut flowers, or even a rubber or plastic muck bucket. To this you can add foam bricks of Oasis, stem holders, and a really great handcream, preferably shea butter-based and scented nicely with lavender or almond. You can also make little gift baskets using terracotta pots as containers.
For a rosarian, tomato afficionado, or the person who trims his lawn with manicure scissors, a tremendous gift is a carton or two of milky spore (a microscopic critter that kills Japanese Beetles for oh, a decade). You will be bathed in gratitude for years.
You could also gift something from your own garden. Plant saplings, fruits and veggies – preserved or fresh and add freshly made bouquets if you have flowers in your garden.
Potted plants and Herb Gardens make lovely gifts for everyone. Place lots of potted plants tied with a red bow tied to the pot, in rows on a side table or mantle and ask your guests to take one when they leave, as a party favor.
Decorate your gifts with touches of nature. Use dried flowers, sprigs of evergreens, tiny flowers in holiday colors from your garden etc. to enhance your gift packages.
The key to shopping for a gardener is to remember: the stranger it looks to you, the more likely they are to love it!
This article first appeared in the 'Celebrating Christmas PDF Magazine' which is a FREE magazine that you can download and even print out.