Christmas Theme – A Southern Christmas (Decorating, Gifts, Food, Christmas Tree Decor etc.)
The beauty and grace of the South is legendary, and these attributes permeate Southern Christmas festivities as well. With just a little effort, you can bring this feeling into your own home — whether you live in the Southern states, are homesick for your down-south home, or want a break from a relentless winter.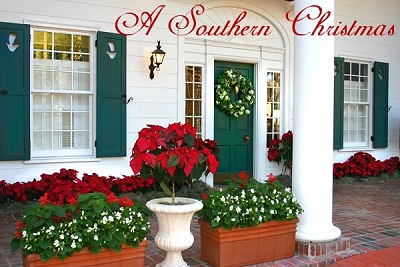 Food
Unlike most themes, which begin with decorations, in the South we are all about the food. Thankfully for those who aren't southern, many of our recipes have become popular around the world; what family, for instance, doesn't have a favorite recipe for pecan pie? For a Southern Christmas, you can spike it with bourbon to make it really sing, and embellish it with bourbon-laced whipped cream. Or you can add oysters to your traditional stuffing recipe for a Charleston-style treat.
But I'm ahead of myself; we must begin with hors d'oeuvres and dinner first. Southerners love seafood, and it's often incorporated into our Christmas festivities. For appetizers, you can include miniature crab cakes, shrimp, or smoked trout (applewood-smoked fish is worth finding). As a delectable first course, try she-crab soup, enriched with cream, sherry and crab roe.
If you want to get really southern, deep-fry your holiday turkey in peanut oil. For this, you will need to buy or rent a turkey fryer, and for heaven's sake don't do the job on the wooden deck unless you have good insurance. But the danger is part of the delight, and once you taste fried turkey you'll never be the same. See our directions and recipe for making a true Southern-style Deep-Fried Turkey.
Baked ham, of course, is another classic; an authentic Smithfield from Virginia is the top of the heap. Soak a country ham overnight in apple juice to remove the salt; you may need to change the juice once or twice, otherwise you'll just be soaking the meat in brine. Before you cook the ham, rub it with an orange, stud it with cloves and during baking baste it with cider. Once the ham is cooked, you can deglaze the drippings with brandy on the stove, and reduce it to a wonderful sauce. As an alternative to mashed potatoes, try a calorie-ignoring macaroni-and-cheese casserole.
Peas accented with cashew nuts are also a classic, as is sweet potato soufflé. For the latter, whip eggs into warm mashed sweet potatoes, transfer into a buttered casserole dish, top with copious amounts of dark brown sugar or molasses, and add marshmallows. Bake it until the marshmallows are toasted and the soufflé is fluffy. (This is not a true soufflé that will crash at the first draft; it's just a light, fluffy version of sweet potato casserole). For a more "upscale" experience, combine whole string beans with chestnuts candied in a bourbon and brown- sugar glaze. Jarred whole chestnuts can be costly, but if you try to save money by shelling them yourself you'll regret it.
The Christmas Tree
For decorations, be sure to focus on the Christmas Tree — southern celebrations revolve around it! To begin with, you can choose a southern breed of Christmas tree. While the
popular spruce is widely grown in North Carolina, there are also the Leyland Cypress, White Pine and Carolina Sapphire Cypress (an attractive blue color without the razor-sharp needles of the Blue Spruce).
Many people like to decorate a tree with bows rather than tinsel or garland; simply tie large bows out of red velvet or plaid ribbon on the branches, and intersperse with your other decorations. Because family is such an important theme in a Southern Christmas, one of the favorite traditions is to display different kinds of nostalgic or meaningful ornaments on the tree.
These might include the crude little trinkets your child made in 1st grade, or even the baby's first set of mittens, along with favorite southerners are collectors, so a tree can be swathed with only glass ornaments, or mercury glass, or silver and pewter ones.
Natural Decorations
The poinsettia was discovered and named by a native of Charleston, South Carolina, so it is the most southern of decorations. Decorate with plenty of this plant to give your home a southern look.
Citrus fruits also can accent garlands or even be placed in a silver or crystal bowl to enliven a room. Lemons and oranges studded with cloves make a wonderful scented accent. Limes, pomegranates, kumquats and pineapples also can be added to centerpieces. And magnolia leaves are triply beautiful — the glossy green is highlighted by glimpses of the leaves' bronze underside, and the greenery can last for weeks with only dusting.
Gift-Giving
Plaid patterns in red, green and even blue are popular in the South, due to the high population of Scotch and Irish descendants. For a traditionally southern gift, simply wrap in a high-gloss red paper and tie with a wide, wired silk plaid bow. The simplicity and elegance of this look bespeaks the southern way of life.
But before you wrap, you must buy — or, if you're southern, make. Homemade pound cakes, jams and cookies are very popular gifts for friends and neighbors, and are not considered "cheap". If you have ever tasted anyone's prized relish or praline recipe, you know such gifts are indeed priceless, and the labor involved is part of the present.
Another traditional southern gift is a bottle of good wine or liquor, something in a price range a little above what the recipient would likely spend on himself. This is particularly popular with men, but be sure the person you are giving it to is neither an alcoholic nor a religious teetotaler!
If you are not southern and simply want to experience the way of life for a season, you can treat your friends and family to southern-themed gifts. There is a world of possibilities here — how about a pair of tickets to a jazz concert, or a small selection of jazz or blues CD's? or, you can give a finely wrought iron garden decoration or a Portuguese painted porcelain flower pot with some forced bulbs in it.
French and Spanish influences are widespread in the South, so both of these are items found in many Southern homes. A beautiful hat or pair of gloves is a wonderful gift for a lady, or a fine pocket handkerchief or cravat for a man. Southern gentlemen are top-notch dressers, so a set of beautiful brass, enamel or silver buttons can be given to adorn his favorite suit jacket. Or you can stretch the imagination a little and give just about anything made of cotton!
Southern Christmases are about relaxing, spending time with family and friends, and worshipping. So don't wear yourself out on the details, or you'll miss the whole point!
This article first appeared in the 'Celebrating Christmas PDF Magazine' which is a FREE magazine that you can download and even print out.