5 Super Easy Christmas Tree Cards to Make
For our 2012 issue of the Celebrating Christmas PDF Magazine, we used the evergreen Christmas tree motif to inspire our Handmade Christmas cards. Getting creative with the razor-edged triangle shape that is so popular in Christmas crafts, we have come up with unusual ways to use it in our cards.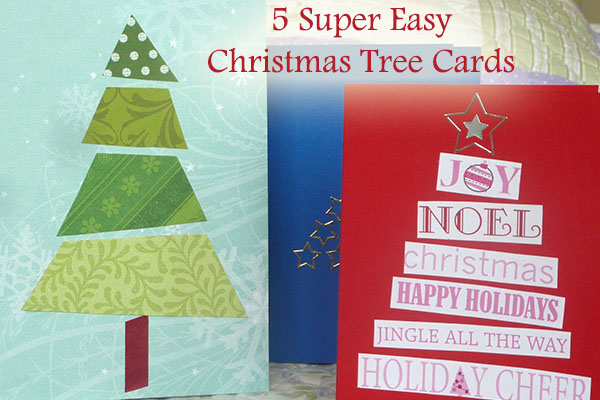 Now, creative never means 'difficult', mind you. All the projects are easy enough for beginners who will enjoy creating hand-crafted gifts to give to their friends and family without fussing over advanced paper crafting techniques. So get started with your handmade Christmas cards with these easy Christmas tree cards.
Christmas Tree in Winter Woods
With a little creativity and a few scraps of Christmas patterned paper, you can dress up a lovely card for Christmas.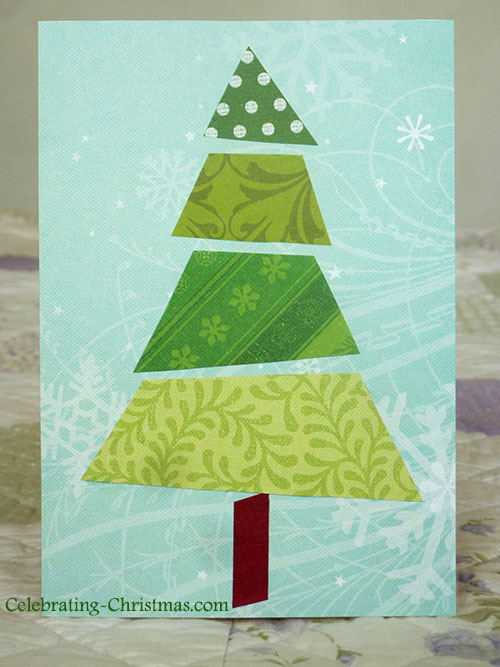 What you will need:
1 Notecard/Card Blank
1 Background paper in light blue, preferably depicting a snowy theme
4 Scraps of green paper in different patterns
1 Strip of brown paper for the trunk
How To:
1. Glue the winter patterned paper to your blank notecard.
2. Using the picture of the finished card as a guide, cut out similar shapes from the different patterned papers in green color for the tree.
3. Glue them as shown, to form the tree.
4. Glue the little strip of brown paper in place to form the trunk. We used a little piece of a brown quilling strip.
5. Stamp or write your greetings on the inside of the card.
Festive Christmas Trees
A Row of Christmas trees, all aglow with ornaments and lights make for a lovely handmade Christmas card.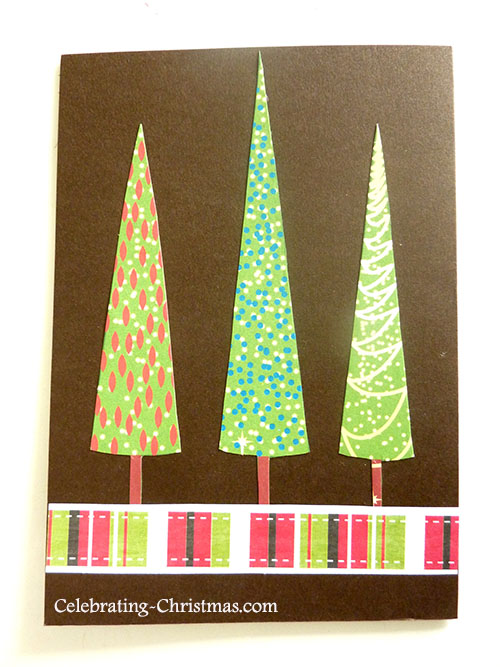 You will need:
Brown Notecard
Green patterned paper for the Trees
Strip of Red and Green paper
We used a scrapbooking paper with a Christmas tree print to cut out the trees. However, you can use any green patterned paper and cut them in long triangles to make trees of varying patterns.
How To:
Cut out 3 tree shapes and glue them to the card. Glue the red and green strip to the base of the trees.
Alternatively, you can also cut out one large shape from a sparkly scrapbooking paper and use that instead.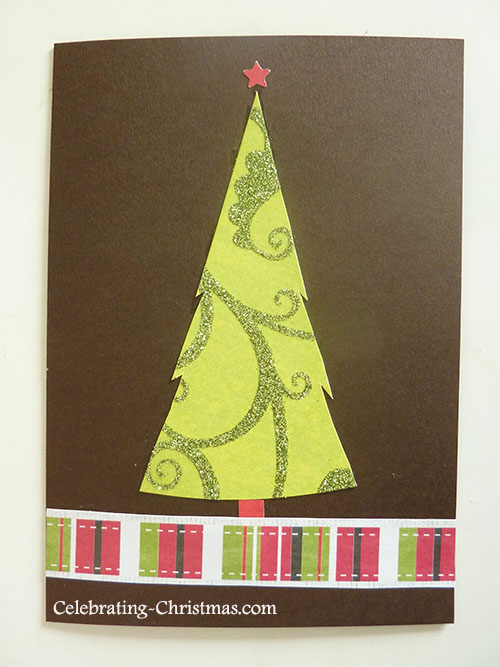 Christmas Wishes Tree
Scrapbooking stores are filled with sheets printed with Christmas wishes lettering. All you have to do with one such sheet is to cut out the words and form a Christmas tree out of it!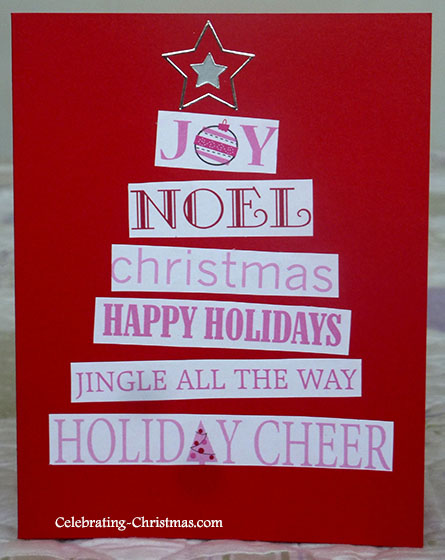 A star outline sticker forms the tree topper on this card made on red cardstock.
Modern, Minimalist Christmas Tree
A very modern twist to the traditional Christmas tree motif.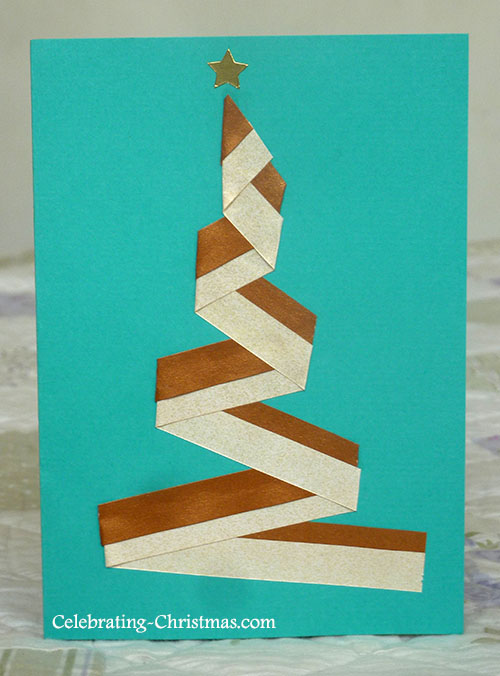 Material Required:
• Teal Blue Notecard
• Quilling strips in Gold and Cream
• Star Sticker
• Glue
How To:
1. Hold the two quilling strips together and glue one end where the tree would end.
2. Using the image above as a guide, form the tree by folding, gluing and turning the strips (always holding them together) to the top. The folds will shorten/narrow down each time.
3. Stick the star sticker on top. You can do this in as many color variations as you want. A great idea would be to make the cards in your chosen Christmas colors.
Starry Christmas Tree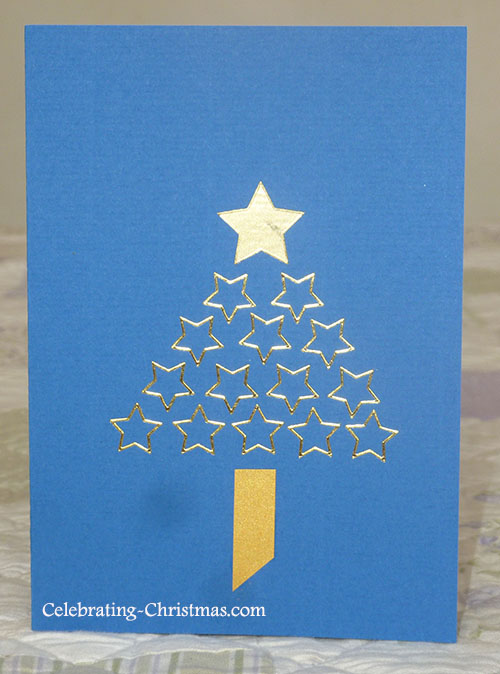 This gorgeous gold and blue card is very simple to create. Outline stickers in star shape have been glued together to form a Christmas tree shape. A larger star makes the tree topper and a strip of golden paper makes the trunk. A classy and bright Christmas card made in minutes!