Easy DIY Christmas Stockings
Stock Up On Stockings
Don't wait for holes to appear. Update your stockings with these fresh and creative designs for making these homespun holiday creations. Just one base stocking can be styled in different ways. We show here five beautiful stockings for you to sew for Christmas. Whether you make a pristine white stocking for Baby's First Christmas or a pieced or basket-weave pattern that shows off your passion for patchwork and crafting, lend your style and personality to the stockings you choose to make.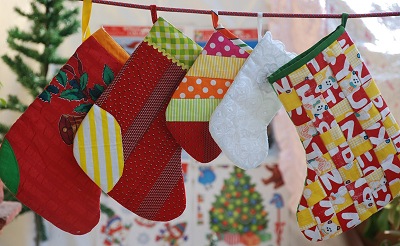 Making a Basic Stocking
Material Required:
• Fabric – by yard or scraps depending upon the stocking you choose to make
• Fabric material for batting
• Fabric material for lining
Easy Instructions for making a basic stocking:
1. Take an old stocking to use as a template or use this pattern. Use a Copier to enlarge or make smaller, the pattern. Depending upon the type of stocking you want to make, change the top fold and heel.
2. Draw the stocking, keeping ¼ inch on all sides for sewing allowance.
3. Draw on main fabric, batting and lining. Baste the three cutouts together. Make two sets of each for making the two sides.
4. Take a strip of contrasting material and sew to the top edge of the stocking. Now join both the sides, keeping right sides facing each other.
5. Turn inside out and attach a small loop for hanging.
Variations
1. Use Christmas Print Material.

Leftover scraps from
other craft projects or an old or unused piece of fabric is what you need.

The loop is made using thin satin ribbon in a contrasting color.

2. Raggedy

To give a raggedy look, attach a small piece of material at the heel before joining both sides.

3. Strip Quilted Stocking

For strip piecing, lay strips of material on a base material and sew on strip by strip. Make a rectangle piece by joining the strips and then lay the template on it and cut to shape.

4. Baby's First Christmas Stocking

Using Lace or Indian Chikan material, make the template in a smaller size, and proceed in the same manner as ordinary stockings. Embellish with Flowerets.

5. Basket Weave Stocking

Take 4 inch broad strips and fold and sew to form ribbons. Turn inside out and iron. On a rectangular base material, make a basket weave. Stitch along the sides to keep the weave in place. Draw the stocking outline on it and STITCH on the outline, twice. This will help keep the weaves in place. Cut the outline keeping a margin of ¼ inch all around. Now sew on the strip at the mouth of the stocking and proceed as for other stockings. This uses all leftover scraps after sewing.
This article first appeared in the 'Celebrating Christmas PDF Magazine' which is a FREE magazine that you can download and even print out.