Shell Angel Ornaments – DIY Christmas Tree Ornaments
Angels have always been a part of Christmas decorations, be it tree ornaments or wrapping paper or any decorative motif. Continue this wonderful tradition and craft these exquisite yet easy-to-make Shell Angel Ornaments to adorn your Christmas tree using something as simple as a shell. These super simple DIY Christmas tree ornaments are also perfect for a Seaside or a Nautical Christmas theme.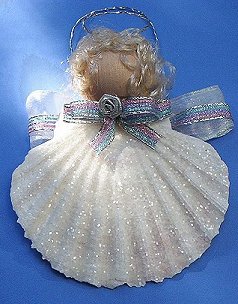 Skill Level: Easy
What you will need:
5" Shell
1" Wooden Ball
Doll Hair
¼ yd Silver Wire
¼ yd 1" Wired Ribbon
¼ yd ¼" Wired Ribbon
Mod Podge
Glitter
Glue Gun
How to proceed:
1. Cover front of shell with Mod Podge. While still wet, cover shell with glitter. Let dry overnight. Shake off excess glitter.
2. Hot glue doll hair to top sides & back of wooden ball to form head.
3. Form halo shape out of silver wire, proportionate to the wood ball, leaving ¼ " stem and glue to the back of head.
4. Glue head to the top of the shell with hot glue.
5. With 1" wired ribbon form a loop 5" wide to form wings. Find centre of loop and glue to centre back of shell (top edge).
6. Form a double bow and glue at front of neck. Glue ribbon rose in centre of bow.
7. Form a loop from the remaining silver wire to use as a hanger for the ornament and glue at centre of wings on back of the shell.