5 Quick Christmas Ideas for the Unconventional Home
If you love Christmas but don't have the time, space or inclination to adorn your home with tinsel, bells and holly wreaths, then it's time to get creative on your festive decor. Bushy green trees topped with fairies aren't the only way to go, and increasingly companies are realising that people demand a little more variety for their carefully crafted home.
So for those of you who like your design a little more fresh and contemporary, we bring you the Christmas decorations that go slightly against the grain. Daring maybe, but these quick and simple ideas are perfect for festive style that goes that extra mile.
1. The 'black as the night' tree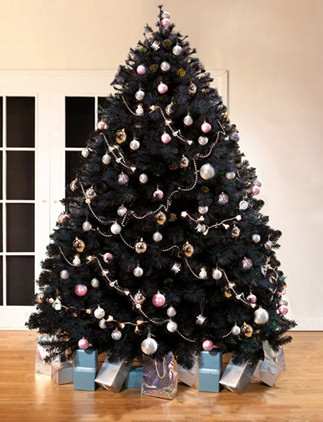 Is it possible for a Christmas tree to be sexy? We think so as Christmas trees slip into something a little more comfortable and go black (and blue) for the contemporary home owner (see above). Decorate with a pop of colour (turquoise accessories look fantastic) or keep sleek and silver for a minimalist effect. They're not your average DIY store find, but Christmas Tree World offers a great selection of black Christmas trees.
2. The Space Saver
If your family is growing quicker than your floor space, then a dominating tree complete with hanging ornaments probably isn't ideal when toddlers are learning to explore. One of the best ways to inject a little Christmas spirit into your home without cluttering limited space is to opt for a contemporary personalised wall sticker; they're widely available and can be completely tailored to your style. Whether it's a 5 foot Christmas tree mural created from your family names or a well placed prancing reindeer, Not on the High Street has a great range that'll cost you pennies (and won't damage your walls either!).
3. The Centerpiece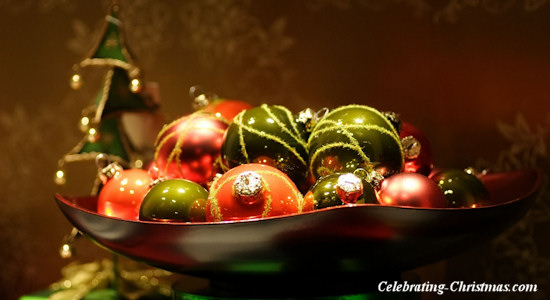 A busy lifestyle can mean that couples and those who live alone don't really have the time to pay much attention to their festive decorations, so if you're used to dashing in and out and finally collapsing on the sofa on Christmas eve, then a centerpiece here and there is a great way to make your home feel festive without eating into your schedule. Our favourite is a simple large glass bowl filled with coloured Christmas baubles – fresh, modern and cheap to create. You could also place ornaments in a glass dome for a different look. If you prefer a more natural theme then you can also fill clear bowls and vases with silver spray painted pinecones – an exceptionally cheap alternative!
4. Create Your Own Tree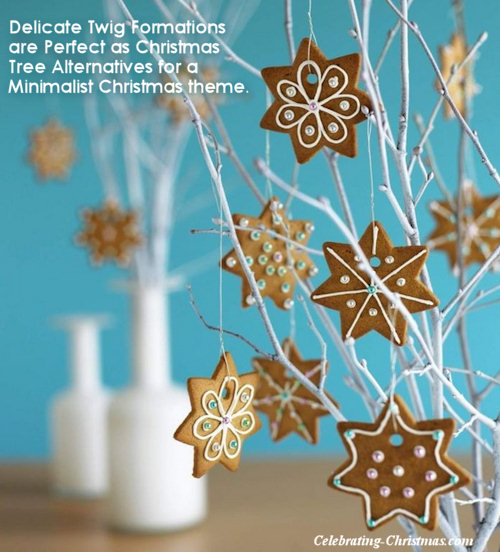 For some nothing but the works will do, but if you're looking to create a romantic festive feel, then the effect can be created without opting for an evergreen. If you've seen delicately illuminated 'twig' formations on popular home and decorating blogs then you'll know how pretty these can look – especially in a minimalist scheme. You can create your own by simply filling a tall vase with stones or florists foam and inserting the twigs to create a bespoke effect. It can also look beautiful if you spray paint the twigs silver for a 'winter wonderland' effect. It goes without saying, ensure you're only using naturally felled twigs and thoroughly dry any woodland materials before using. A few ornaments or gingerbread cookies can decorate these minimalist 'twig trees' to perfection.
5. Go green with e-cards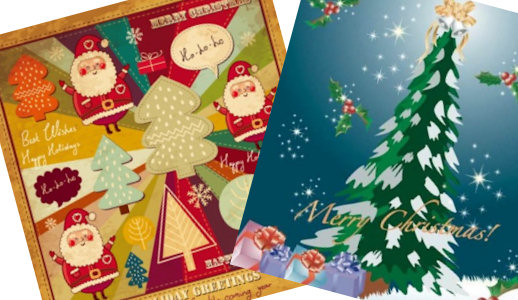 If you appreciate your home being adorned with Christmas cards then this one might not be a tip for you, but if you could do without the clutter and waste then e-cards are environmentally friendly and in many cases can be purchased from well-known charities. Do a good deed; brighten up their inbox and keep your home clutter (and rainforest!) free.
Victoria is writing on behalf of Christmas Tree World, a UK based provider of quality artificial Christmas trees.