DIY Christmas Table Decorations
These DIY Christmas table decorations will give your table a unique festive flair that is guaranteed to bring in compliments.
No-Sew Table Setting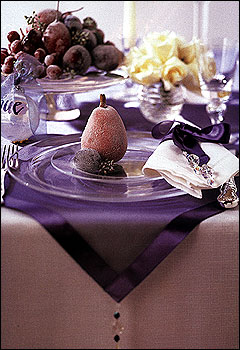 Make an elegant organza table runner for your holiday table. Measure and cut a length of organza to fit your table, then using no-sew fusible tape, trim with a coordinating satin ribbon. Attach a string of glass beads to each corner. Make napkin ties by attaching beads to both ends of an 18-inch (46 cm) satin ribbon. Wrap the ribbon around the napkin and tie in a bow. Instead of a place card, use a glass Christmas ball hand-painted with your guest's name — it makes a great take-home gift.
Christmas Ball Candleholders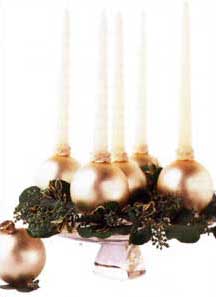 A little ingenuity turns old ornaments into glamorous candleholders. Remove the cap from a Christmas ball and glue decorative trim around the stem. Pour sand or salt into the ball until it's two-thirds full. Place a candle in each ball and arrange on a plate. To ensure that they don't tip over, place a rubber washer under each. Tuck in sprigs of fresh greenery.
Martini Votives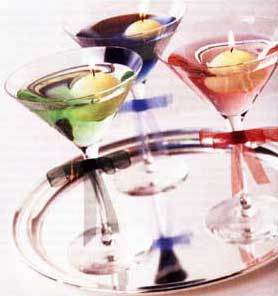 You've survived the holiday rush, and it's time to celebrate. For a final flourish, fill martini glasses with water and add your choice of food colouring. Tie coordinating sheer ribbon around the stem of each glass. Place glasses on a silver tray and drop a floating candle into each one. Happy Holidays!