Peacock Christmas Decorating Ideas
Blue and Green for Christmas? Why Not?! The trendiest colors in home decorating can be beautifully adapted to the festive holiday decorations. Add a dash of gold, purple, green and some shimmer and you are all set to dazzle your visitors with these peacock Christmas decorating ideas.
Peacock Themed Christmas Tree Decorating
It has to begin with the tree! The Christmas tree being the focal point of all Christmas decorations, will set your peacock theme from where you will find it easier to carry it in the other areas.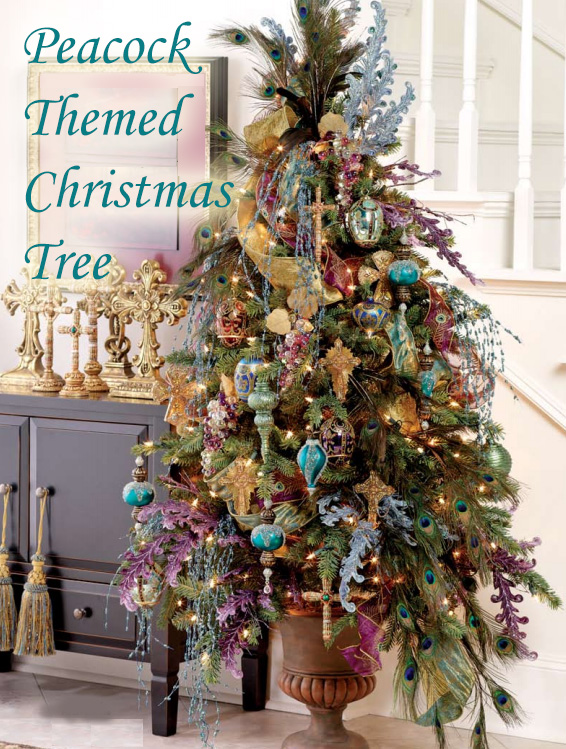 Use peacock shaped and themed ornaments to create the look. Mix round baubles with teardrop and clusters to create a full-looking tree.

Regal Peacock Lavish Blue and Purple Sequined and Glittered Christmas Ball Ornament

White Peacock Ornaments

Kurt Adler  Gold, Purple and Green Glitter Beads and Cord Ornaments: Ball, Dome and Heart


6.25″ Regal Peacock Blue Beaded and Glittered Minaret with Floral Gem


Glass Peacock Hand Decorated Reflector Ornaments Set of 12

Kurt Adler Peacock Design Glass Ball Ornament


6 December Diamonds Regal Peacock Shatterproof Christmas Ball Ornaments 3.75″

125-Piece Club Pack of Shatterproof Regal Peacock Blue Christmas Ornaments
Peacock Christmas Decorations
For mantles, tables and any other corners where you have space for large decorations, mix peacock feather sprays with large silk flowers in teal and purple mixed with Christmas greenery. The peacock theme is decidedly Asian, so think Rich and Opulent!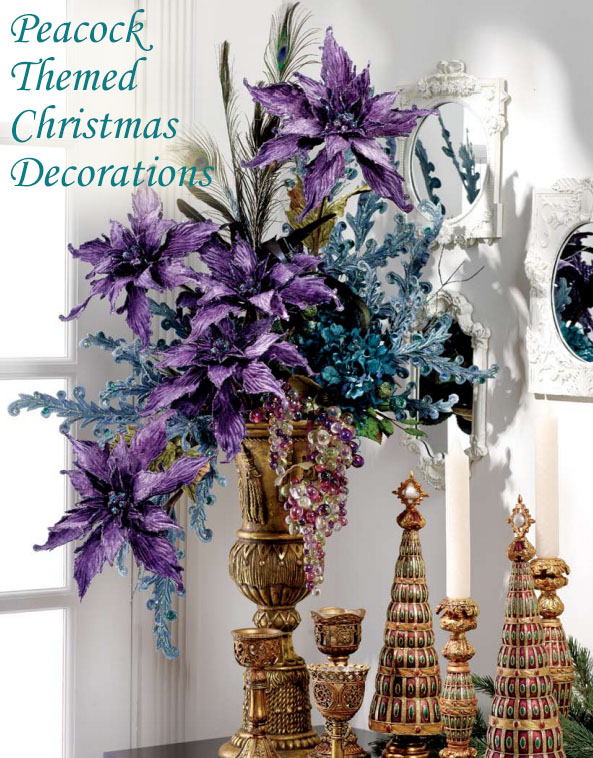 Always balance with dull, Baroque-style gold decorations to balance off or you might get carried away with the colors.
Use decorations in Peacock colors as well as motifs to complete the look.

Decorative Christmas Trees in Jewel Peacock Tones

Lighted Peacock Feather Branches

Regal Peacock Bird Decorations
Outdoor Peacock Christmas Decorations
Take your theme outdoors and create a stunning entryway using lighted peacock Christmas decorations.

4 ft. tall Peacock yard decoration with sparkling LED lights
Beyond Decorations
Take your Christmas celebrations beyond just the decorations and add peacock touches in other places too. We love these dimensional peacock gift tags for all our Christmas gifts!