Room to Room Christmas Decorating Ideas
Design ideas for decorating each and every room in your house for Christmas from your entrance to outdoors.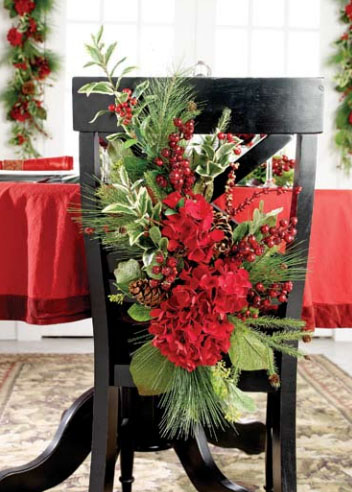 Decoupage a serving tray with your favorite cards from last year and set on your coffee table.
Sew small brass jingle bells along the hem of a tablecloth.
Boost the effect of votive candles by placing them in front of a mirror.
Cover a table with a pretty tablecloth, gather each corner and tie with a ribbon, and attach a nosegay of sprigs of holly and berries.
Make fabric envelopes out of squares of felt with three corners glued together at the center. Stuff with greens, pinecones and candy canes and hang on every door.
Fill mason jars with red and green M&M's or other Christmas candy, tie with a plaid ribbon and use to decorate the mantelpiece, foyer table or kitchen. Give guests a jar as they leave.
String dried fruit and cranberries and tack to shelf edges.
Spray-paint pinecones green, gold or silver, put in a basket and hang on the front door.
String an extra strand of tiny white lights above the refrigerator, closet or bathroom mirror.
Put photographs of Christmases past in frames and hang on walls with a wide ribbon.
Fill a simple vase with greens and a few red carnations.
Dress up the kids' toys. Tie a bright plaid ribbon around a favorite stuffed animal and set it in a child's chair by the tree. Use a toy wagon to display wrapped gifts.
Decorate mantels with bayberry- or vanilla-scented candles. Fresh or dried wreaths add a pleasant aroma as well.
For Christmas decorating ideas by specific rooms, click on each room:
• Entrance
• Bedroom
• Bathroom
• Kitchen