Snow Themed Christmas Tree
This Christmas, why not choose a theme for your tree decor? A theme makes it fun and easy to decorate your tree and gives any room a polished and pulled together look. One popular theme that always looks appropriate and beautiful is snow. After all, snow and winter go hand in hand. Even if you don't have snow on the ground, you can bring the look of white, sparkling beauty into your home.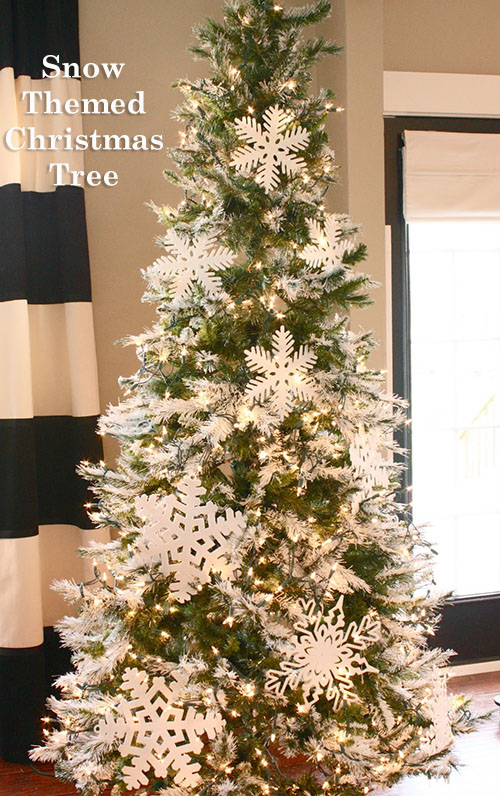 The first thing to do is choose your tree. Some people insist on a real tree. Real trees are beautiful and traditional, but require some work. You'll need to keep your tree watered to avoid drying. A dry tree can be a serious fire hazard, but not if you take proper precautions. You'll also want to make sure the tree you choose is free from insect infestation. Another issue is that of shedding pine needles. However, if you have taken all these factors into consideration and still want a real tree this year, there are many beautiful selections from which you can choose. There are many different species of evergreen that make ideal Christmas trees, including: Fraser Fir, Noble Fir, Balsam Fir and Norway Spruce, to name a few. Now, if you want an artificial tree, you'll find lots of attractive choices available in many different sizes and even colors. An artificial tree does require some assembly. However, it's simple to reuse your artificial tree year after year.
After you've chosen your tree and set it up in your home, it's time to decorate!
For a snow themed Christmas tree, the primary color of your decorations should be white. Choose classic white lights to put on first. Your lights can be solid, or twinkling. Be sure to check the lights for blown bulbs before placing them on the tree. After you've wrapped the light strands evenly around your tree, you can start thinking of ornaments. For a snow theme, you can try snowman ornaments or crystal clear snowflake ornaments. Miniature wooden sleds also make cute additions! White glass balls also fit well. If you need a bit of color, there are many ways to achieve it. Try hanging wrapped candy canes on the tree for a hint of red. Or, nestle fake birds in the branches of your tree for a rustic appearance. For the top of your tree, try a bright white star, snowflake or snowman. You'll also need a tree skirt. For a snowy look, go for pure winter white. You can even pile fake snow around the tree for a realistic snowy look. There's also fake snow that comes in a can, it can be sprayed lightly on your tree to give a light snow-kissed appearance.
There are alternative ways to achieve a snow theme Christmas tree. You could go for an artificial white tree adorned with pale blue ornaments for an icy appearance. Use your imagination to come up with ideas for your snow theme Christmas tree. Even if it's not snowing outside, you can still experience the majesty of a snowy day indoors!