Toddler Friendly Christmas Decorating Idea
This pretty Christmas tree made using stuffed toys can be a Christmas tree alternative in a kids room or baby nursery, or simply a kid-friendly decoration to brighten up any corner of your home. Make Christmas special for your toddler.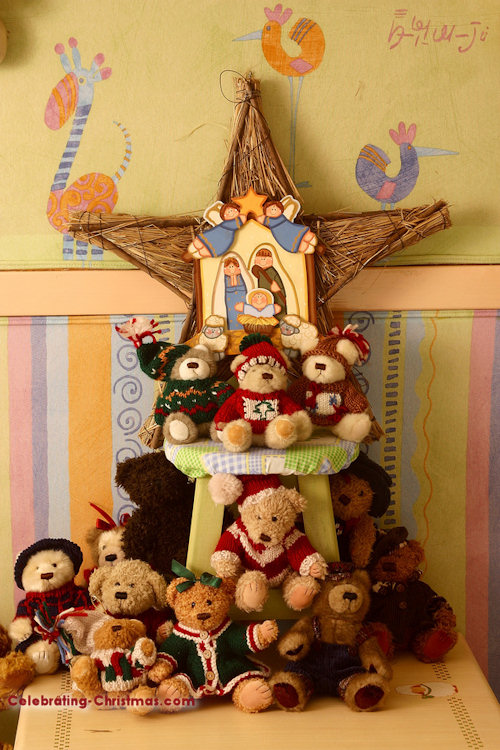 Skip the real or artificial fir and create your own toddler-friendly version with stuffed toys like teddy bears. A nursery stool gives the necessary shape and height to this tree. Group together little teddy bears (dressed up in Red and Green, if possible) on the stool and at its base. A star-shaped straw wreath makes for the tree topper and the pretty nativity tole painting plaque adds to the lovely decoration.
More Ideas for Toddler-friendly Christmas Decorations
Christmas Tree Decorating for Toddlers
When decorating for Christmas, take into consideration your little one. Keep your fragile ornaments in their boxes and decorate the Christmas tree with paper chains, paper snowflakes, edible ornaments, stuffed toys, or other unbreakable and safe items.
Around the House
Hunt for large stuffed toys like Santa, snowmen and elves that your toddler will love. If you do not wish to spend money on them, use existing large toys and dress them up in festive colors and stitch gifts into their hands or Santa hats on to their heads.
Use some of your toddler's soft toys. Our 'Raggedy Ann and Andy' always find their way into any decor, whether it is for Christmas or for a Birthday party. Set them up near the fireplace, on a corner table or on a shelf having tea or a picnic.
More Ideas for Making Christmas Special for Your Toddler.