Step by Step Christmas Tree Decorating – The Basics
What goes first? The lights or the garland? They key to successful and hassle-free Christmas tree decorating is to go the proper way and follow all steps. Our step by step Christmas tree decorating guide shows you a simplified way to trim your tree. Before we begin the actual decorating process, let's start with the basics.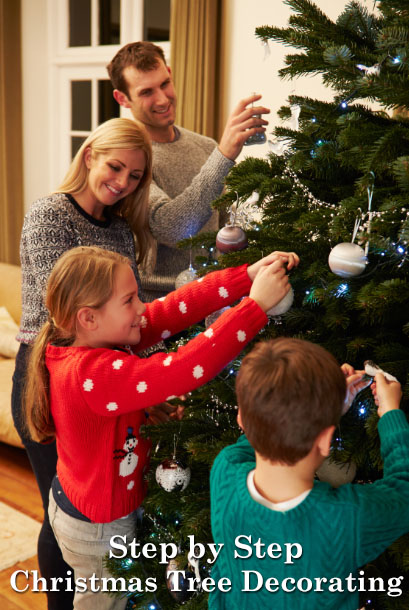 Cover the Floor
It is always a good idea to cover the floor (no matter if hardwood, natural stone or carpet) with a large piece of plastic in order to protect it from scratches and stains. If you don't use a tree skirt, cover the plastic with a subtle colored piece of fabric.
Keep your tree Fresh
Keep the water reservoir in your tree stand full, especially during the tree's first days and week indoors. Most trees with a fresh cut (which will induce water absorption) will drink many quarts of water in the first few hours, so check the water level in your tree stand several times a day for about a week, and less frequently thereafter.
Decorating
Start Decorating in the following order: Lights, Garlands, Ornaments. Assemble all boxes together before starting the decorating process.
Ornaments
Mix some special ornaments along with the generic ones. Special ornaments like birdhouses, angels, special handcrafted ornaments should be mixed with the regular baubles.
Perfect Time
The perfect time to decorate a tree is in the Evening. It will bring out the entire magic of the twinkling lights and sparkling ornaments.
Now, let's begin decorating. Start with the Lights