Step by Step Christmas Tree Decorating – Next, the Garlands
Welcome to stage 2 of the step by step Christmas tree decorating guide. The second step in decorating a Christmas tree is to adorn it with Garlands. Garlands are a pretty way to decorate your tree.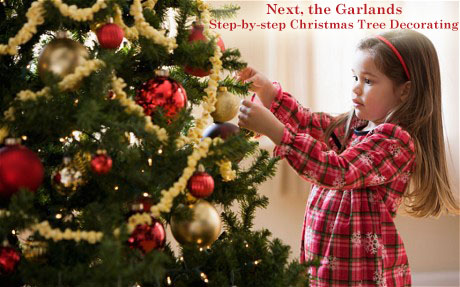 Drape your garlands before you start with the ornaments.
A Variety of garlands can be used. Flowers, beads, knit, paper, ribbons and even organza or tissue fabric can be used as garlands.
Start at the top, stringing less garland, and work your way down, increasing the amount of garland.
For ribbon, paper or cloth garlands, wrap them loosely around the tree.
For thin beaded garlands, swag them from branch to branch.
Take care not to wrap the garlands too tight so that the branches start bulging out of the garlands.
Next: Finally, the Ornaments