Christmas Tree Decorating Ideas, Tips and Themes
Christmas decorations and accents turn your holiday home into a special place you and your guests will love. There is no doubt that the Christmas tree is the focal point of all Christmas decorations. See some of the season's best Christmas tree decoration ideas to dress your home for the festive season.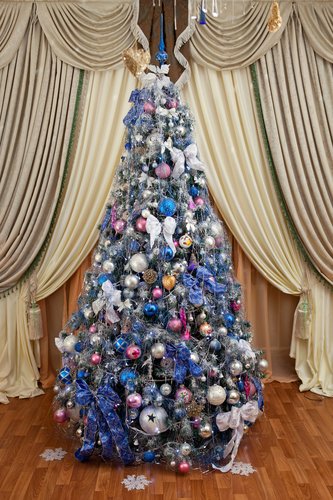 TRIM THE TREE
Use lots of lights. If your tree is loaded with ornaments, limit lights to one color to simplify the look. If your tree is sparse, put up multi-colored lights to help fill it out.
Put lights on the inside branches as well as the outside ones to illuminate ornaments.
Attach lights from the bottom up, working so that they're concentrated at the bottom of the tree and gradually thin out toward the top.
Work from the inside out when hanging ornaments. Put large shiny ones on the inside branches to reflect light and fill out dark spots.
If your ornament collection is skimpy, use candy canes, ribbons, tinsel, doilies and even seashells to fill out the tree. To add glitter, hang pinecones, walnuts and bay leaves that have been spray-painted with nonflammable gold or silver paint.
Decorate the bottom of the tree. If you don't have a skirt, use a festive tablecloth or quilt, a piece of lace or a red sheet or fabric tablecloth.
To give your tree personality, hang ornaments with gold cording or velvet ribbon instead of wire hooks.
DISPLAY YOUR CARDS
Hang a grapevine wreath on the inside of your front door, punch a hole in each card and attach with a ribbon. Tuck sprigs of holly and evergreen between the cards.

Put your favorite cards in the corners of picture frames and mirrors throughout the house.

Wrap the banister with garland and berries. Hang cards from it with red ribbon or cord.
Hang wide ribbon or strips of holiday fabric cut with pinking shears on either side of the front door. Pin cards to it as they come in.
Christmas Tree Themes
Decorate a living Christmas tree this year! Decorate a tabletop or a medium-sized tree with gerberas or any other hardy flowers.
• Creative Christmas Tree Themes
• Creative Christmas Tree Themes
View All Christmas Tree Themes
DIY
• Christmas Tree Ornament Crafts