North Pole Christmas Party Ideas
Treat all the naughty little elves to a Christmas party at the North Pole. Check out our Christmas party ideas for throwing a fun and festive party for all ages.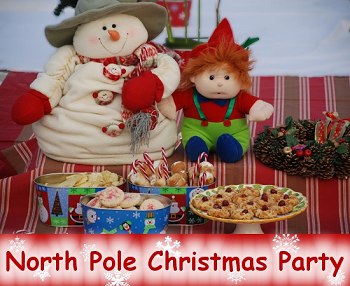 Invitations
Get red and white wrapped candy sticks (these are often sold near candy canes and look very similar to candy canes except they do not have the curved end). Cut Heavy white cardstock into 4×3 inch rectangles. Hold a rectangle so that the longer sides are at the top and bottom. Punch a hole in the top middle and bottom middle so that it will fit on the candy stick. Write "Welcome to the North Pole" on the rectangles on one side and write the information for the party on the other side. Slide the paper onto the candy sticks so that it looks like a North Pole sign. Hand-deliver the invitations.
Decorations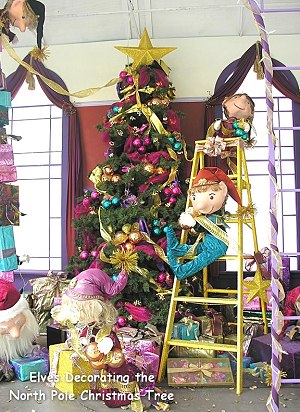 Santa's House
Make your home feel like it could be the house of Santa Clause. Most of your decorations that you already have up for Christmas will help set the tone like your Christmas tree and garland. You can give them an even more North Pole feel by making the tree look snow covered. This look can be achieved with fake snow that you can find at most craft stores.
Decorating the Yard
You can decorate the yard by putting up a sign that says North Pole and hang decorations on the trees. If you don't have snow you can create a snowman to put next to the North Pole sign by stuffing two white garbage sacks with leaves or paper. Put one bag on top of the other and add a face with a black permanent marker. You can also attach a hat.
Elves Decorating the Tree
It is the little elves who decorate the tree at the north pole. Continue the tradition at your party by putting up a step ladder near a tree and perching atop it some stuffed elf toys. Give each elf toy some ribbon or tinsel or garland to make them look like they are working on the tree or gifts.
Santa and His Sack
Set up a large Santa with his sack to welcome guests at the door. The sack can contain the party favors to be given at the end when the kids leave. Make the sack out of red velvet in the form of a large pouch and use later for wrapping large gifts.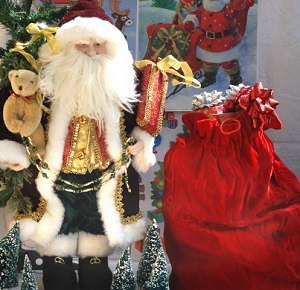 Craft Ideas
Have gingerbread boys and girls cut out and baked. Provide the kids with icing and small candies and let them decorate cookies and eat them. You could also do Christmas crafts like decorating stockings and gifts.
Mrs. Claus's Class
To make it extra special someone could dress up like Mrs. Claus (wear a silver wig, a red dress and a white apron) and invite the guests to bake or craft with her. You can also easily hire someone to be Mrs. Claus.
Activity Ideas
Indoor Snowball Fight
Before the party gather tissue paper and wad it into balls. Fill buckets with the "snowballs" and place them around the party area. If the kids are younger just let them have a free for all. They will throw them at each other until they are tired. If the kids are older you can provide boxes and blankets for them to create forts and have a more organized snowball fight.
Meet Santa
The highlight of any trip to the North Pole would be meeting Santa. Santa could also bring along a few of his elves to help pass out gifts (small goodie bags for each guest). Make sure to take a picture of each child telling Santa what they would like for Christmas.
Food Ideas
Hot chocolate with fun items to mix in, like marshmallows, small candies and candy canes would be great refreshments, but if you have very small children attending the party it might not be the best option. Have some baby food for them. Cookies and milk are Santa's favorite treat so be sure to offer those as well. Check out our Cookie Recipes for ideas.