Coffee Walnut Torte – Christmas Cake Recipes
Coffee Walnut Torte – A Winter Soul Warmer
Coffee has forever been the favorite companion for winter evenings. Add festive walnuts to come up with this ideal combination for Winter festivities. And if you are planning a party in the evening such as a Caroling party, this coffee walnut torte recipe is the perfect dessert to serve to keep away the chills.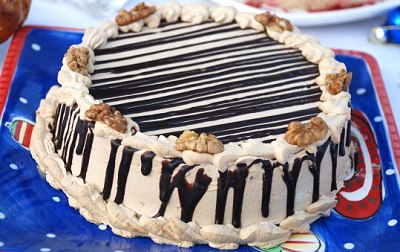 Ingredients for the Cake:
• 1 tablespoon instant coffee granules
• 2 tablespoons hot milk
• 175g selfraising flour
• 1 ½ teaspoons baking powder
• 175g caster sugar
• 175g softened butter
• 3 large eggs
• 75g walnut halves
Ingredients for the syrup:
• 1 tablespoon instant espresso coffee powder
• 50g demerara sugar
• 55ml boiling water
Ingredients for the Coffee Whipped Cream Icing
• 1 cup chilled heavy cream
• 1 tablespoon instant espresso
• 3 tablespoons confectioners' sugar
Making the Coffee Walnut Sponge Cake Layers
1. Dissolve instant coffee into 2 tablespoons hot milk. Let stand.
2. Pre-heat the oven to 350 °F/ 180 °C/ Gas Mark 4 and toast the walnuts in the pre-heated oven for 5-7 minutes. Reserve 8-10 halves for the icing and finely chop the rest.
3. Mix together flour and baking powder and sieve them together.
4. Beat butter. Add eggs and beat till soft. Add the milk-coffee mixture and mix well.
5. Add sugar and beat till mixed well.
6. Add the sieved mixture of dry ingredients and beat till mixed well. If the dough is too stiff, add water or milk.
7. Finally, fold in the chopped walnuts.
8. Grease, flour and line with parchment paper, 2 9″ x 1-1/2″ round cake pans and distribute the prepared cake batter evenly among them.
9. Bake the cakes for about 30 minutes or till done. Prick all over, pour syrup (recipe follows) and let stand on a rack till cool after which you can remove the base parchment paper. While the cakes are done and cool down completely, prepare the icing.
Making the Syrup:
1. Dissolve coffee and sugar into boiling water to make the syrup.
2. Spoon over sponge cake layers.
Making the Coffee Whipped Cream Icing:
1. Stir together 3 tablespoons of cold heavy cream and the instant coffee until coffee is dissolved.
2. Mix together the remaining cream and confectioner's sugar and beat until cream forms stiff peaks.
3. Add to this the coffee-cream mixture and beat well.
4. Spread half of the icing over the first cake place the other cake carefully on top and spread the other half on top.
5. Garnish with the reserved toasted walnut halves.
Optional
* Drizzle melted chocolate chips over the top and sides with a spoon or from a plastic bag cone. This, although optional, will give this luscious dessert that tempting look that a Christmas dessert almost always has.
* Adding a pinch or a spoonful of ground cinnamon to the batter is also a wonderful option for cinnamon lovers.