Gingerbread House Construction & Decorating Ideas
Let the charm of Gingerbread Houses into your house this Christmas with our easy plans and creative decorating ideas. Before long, you will be tempted to create an entire town of gingerbread houses!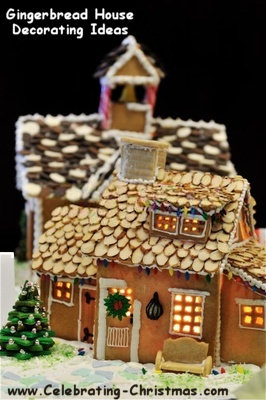 Foundation
Cover your work area with a plastic tablecover or waxed paper for easy clean up. If your house will have an outside (lawn, gardens, etc.), use a large heavy-duty piece of cardboard covered in aluminum foil. For smaller versions, use large Styrofoam white plates. Be sure to use basic white frosting to "cement" your house, trees, lampposts, etc. to the base.
Blueprints
You will find plans for one-room house,Victorian house, chapel, country store, log cabin to help you build your gingerbread house. Offer suggestions to the children that a gingerbread house can also be Santa's Workshop, a reindeer barn, Mrs. Claus's kitchen, toy shop or even a replica of your own home. If you live in the big city, then why not make an apartment building using a tall milk container and adding lots of windows.
Building Supplies
Bread sticks (logs, rafters and beams), shredded wheat cereal (thatched roofs), wafer cookies (roofing tiles), mini chocolate candy bars (doors, shutters and shingles), Candy Kisses (church bell and roof decorations), lollipops (road sings), jelly beans (fireplace stones), fruit leathers (window shades), ice cream cones (trees), and candy canes with gumdrops (lamp posts) are just some ideas. For a more complete list of building supplies and their uses, click here.
Construction and Finishing Touches
Step by Step instructions are all laid out but remember to let the kids have fun… and enjoy the mistakes because it will cause even more creativity that you would ever have imagined!
Set-up time: Allow gingerbread structures/frosting to dry overnight so they will be stable.
Landscaping
Flower cake decorations (garden), gumdrops (bushes), brown sugar (walkways and flowerbeds), pretzel sticks (fence posts), nuts (stones) and rock candy (rocks). Click here for details.
Christmas Decorations
Use Life Savers (wreaths), Red Hots and M&M candies (Christmas tree balls), white frosting (snow), powdered sugar (frost), melted hard candies (stained glass windows), colored sprinkles (Christmas lights), Fruit Loop cereal (Christmas railings) and marshmallows (snowmen) are some ideas.
People and Animals
Animal Crackers (add scarf decorations), Graham Cracker Teddy Bears (decorate in Santa suits), buy ready made from your bakery and for homemade, use cookie cutters or trace stencils onto cardstock and use for pattern on the cookie dough. Using a little blob of frosting, the people and animals will stand up on the base or to the sides of the house.
People and Animal Patterns:  Use cookie cutters, cut figures out of coloring books, etc.  Trace pattern onto a sturdy piece of cardboard or poster board and voila, you have patterns!
Place your pattern on Gingerbread dough with a sharp pointy paring knife, bake, cool, decorate.  To stand the figure around the gingerbread house, place it in a blob of thick frosting and voila, its standing!
Have fun and be creative!
ROYAL ICING CEMENT ("not" edible)
ALMOST BUTTERCREAM CEMENT (edible)
FONDANT (to make ornaments)
by Kimberly Lainson of The Party Works
Mary Ann & Kimberly, a mother and daughter team have created their siteshttp://www.thepartyworks.com and http://www.cakeworkscentral.com to provide a treasure trove of free kids birthday parties, baby showers and cake decorating ideas.