Gingerbread House Pattern – Log Cabin
Snow Covered Log Cabin Gingerbread House Plan
Welcome Christmas and Winter by building a cozy, tabletop log cabin with gingerbread. This gingerbread house plan requires no blueprints to print and cut, just like a log cabin does not require any. All you need is logs to build this one.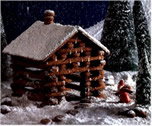 1.  Start with a 6-inch log in back, two 2-inch logs in front.  Top with 6-inch logs on sides, letting ends extend.  Continue building using spacers at inner edges of 2-inch logs.
2.  Fourth layer uses 6-inch logs all around.  Add 3 spacers across doorway; then top with 6-inch logs across front and back.
3. Using spacers and 3-1/2 and 2 inch logs, build up gables on front and back of cabin. Place a spacer on top of each gable.
4.  Ice and sugar roof pieces, ice top logs and spacers.  Set roof in place.
Pattern
Use the following pattern to cut the roof and if desired, front and back ends.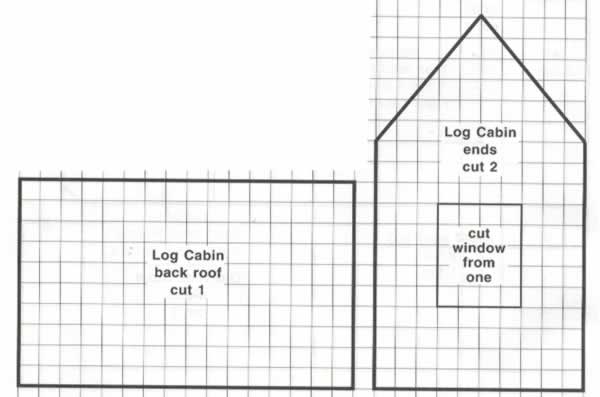 Basic Gingerbread & Gingerbread Log Recipes
ROYAL ICING CEMENT
("not" edible):
ALMOST BUTTERCREAM CEMENT
(edible):
FONDANT
(to make ornaments)
Or if you would rather not bake at all, you can make an even more easier version of the Log Cabin gingerbread house. Try our Rolled Wafer Log Cabin – No Bake 'Gingerbread' House.