Smiley Santa Cookies Recipe
A merry twist to the Santa cookies, this Smiley Santa cookies recipe will be fun to make and wake up young ones with.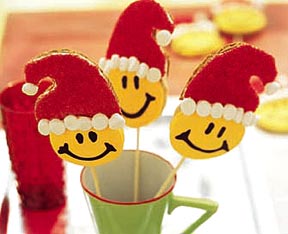 Makes: 20
Prep: 35 min
Bake: 10 min per batch
Decorate: Depends on skill
Planning Tip:
The decorated cookies may be stored airtight with waxed paper between layers at cool room temperature up to 1 week, or frozen up to 1 month.
Note:
Knead 1/2 cup flour into 18-oz tube refrigerated sugar-cookie dough. Roll into a log, cut log in 20 equal pieces and roll each into a ball. Place on lined baking sheet and flatten into a 2-in. round. Add hat (Step 5). Bake and decorate as directed.
Hats:
10 graham crackers, each broken into 2 squares
Cookie Dough (see Tip and Note):
1 stick (1/2 cup) butter or margarine (not spread), softened
1/2 cup packed light-brown sugar
1 tsp vanilla extract
1/2 tsp baking powder
Whites from 2 large eggs
1 1/4 cups all-purpose flour
20 wooden skewers, pointed ends broken off (optional)
Eyes & mouths:
1 oz semisweet baking chocolate or chocolate chips, melted
Royal Icing (recipe follows)
Yellow food color, liquid, gel or paste
2 purchased disposable decorating bags or 2 qt-size ziptop freezer bags and one #5 plain round piping tip
Red crystal decorating sugar (from a 4-oz tub)
80 miniature marshmallows
1. Trace outline of hat (actual size printed over this text) on sturdy paper and cut out. Place pattern on each cracker square and carefully cut around outline with a sharp knife.
2. Heat oven to 325°F. Line baking sheet(s) with foil. Using a 2-in.-diam jar, bottle or glass as a guide, mark 20 circles on foil about 2 1/2 in. apart.
3. Dough: Beat butter, brown sugar, vanilla and baking powder in a medium bowl with mixer on high speed until light and fluffy. Scrape down bowl sides, then beat in egg whites, 1 at a time until blended. Stir in flour.
4. Set a gal-size ziptop bag into a wide rimmed tall glass or jar (to free your hands); scrape dough into bag. Cut 1/2 in. off 1 bottom corner. Pipe a 2-in-wide, 1/2- in.-high mound of dough in each circle on ungreased foil-lined baking sheet(s).
5. Place a graham-cracker hat, touching dough, above each mound. With a wet finger, smooth top of mounds. If desired, insert skewers into dough.
6. Bake 10 minutes or until puffed and spongy when gently pressed. Using a wide spatula, immediately remove cookies to a wire rack to cool completely. Place sheets of waxed paper under rack.
7. Line cooled baking sheet with waxed paper. Scrape melted chocolate into decorating bag and pipe eyes and mouths for cookies on the lined baking sheet. Refrigerate until firm and ready to use.
8. Scrape 1 cup Royal Icing into a decorating bag fitted with piping tip. Tint remaining icing yellow; cover tightly. Pipe icing in bag around edge of hats. Squeeze icing remaining in bag into a bowl and stir in water, a few drops at a time until thin enough to drip easily from a spoon. Spoon icing within piped border. Spoon red sugar over wet icing; allow to dry.
9. Brush excess sugar from hats. Spoon 1/3 cup yellow icing into decorating bag fitted with piping tip. Pipe around curved edge of each round cookie. Thin remaining yellow icing as directed in Step 8; spoon within piped border. Before icing sets, put chilled chocolate eyes and mouth, smooth side up, on each cookie. Let dry completely.
10. Snip miniature marshmallows in half and press sticky side along bottom of hats and at tips.