Victorian Gingerbread House
Decorate a Gorgeous, Victorian Gingerbread House this Christmas with our foolproof blueprint and step by step decorating ideas.
Tammy Graf from Encino, CA constructed this Victorian style Gingerbread House using our blueprint for Victorian Gingerbread House and shared her decorating ideas with fellow Christmas Baking enthusiasts.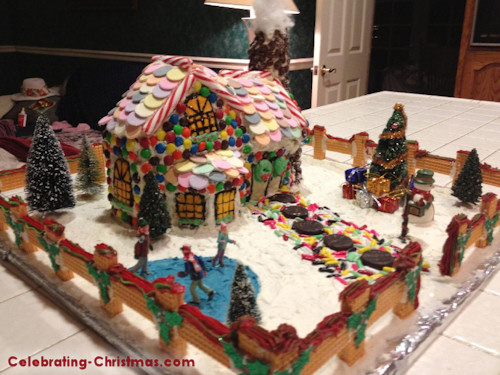 Tammy modified our Victorian Gingerbread House pattern by adding a Chimney (download plan separately).
Patience is the key to a beautiful, large Gingerbread House, says Tammy. She took her time creating this lovely house by first making the gingerbread and letting it cool overnight. She then, built the house, let it sit overnight, decorated one side, let it sit overnight, etc.
Decorating Details
Here is what you will need to decorate your Victorian Gingerbread House.
Chimney: Chocolate Covered Raisins
Roof: Nickle wafers
Windows: Yellow and Brown Icing
Side walk: Peppermint patties and shoestring licorice
Fence:  2 tone (red and green) Sugar wafers with Wilton icing on top
Pond: Blue icing
Tree , present, snowman: Not gingerbread. yes, they are fake!
Wreaths on front door: Gingerbread.
Walls: M&M's.
The poinsettia leaves on the fence are table decorations.
Back View
Here is the back view of the Victorian Gingerbread House.